Plenty of companies do community outreach or give to a specific cause! Some companies donate overall profit to some whereas others feature specific items that give back! Below are a few examples of what the lingerie industry is doing to help and empower others.
Curvy Kate, in conjunction with the CoppaFeel organization, created a lingerie set specifically with the Coppafeel logo design. Each bra you buy gets money donated to the CoppaFeel cause. What is CoppaFeel? CoppaFeel was created by Kristin Hallenga who was twice misdiagnosed with breast cancer who seeks to encourage women between the ages of 18 to 30 to self-check themselves for breast cancer.
I'm a big supporter of Coppafeel, considering a friend was also diagnosed recently with breast cancer and she is under 30. She is now recovering from her chemotherapy, thankfully.
Here
is a review of the Coppafeel bra. I also purchased this bra and had a similar experience.
For more about this topic, please visit the Curvy Kate page.
Where to buy the bra:
Brastop
You probably haven't heard of Naja lingerie, but you will drool over their sumptuous fabrics and beautiful designs. In fact, don't be surprised if you see more of founder Catalina Girald in the news because she has been making the rounds promoting her brand. Perhaps Naja's greatest feature, though, is that Naja helps single mothers learn how to sew so they can become successfully employed. These women learn skills and can then help themselves, their children, and their communities!
The bras and underwear in this line are literally pieces of art! The inside of the cups also feature insanely detailed fabrics. When you wear this underwear, know that you're promoting a brand that empowers women.
Soma's Giving is Beautiful Campaign/Donating a Bra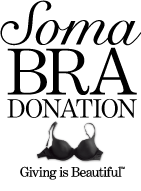 This section isn't necessarily about a brand but about what you can do to help someone else! Soma Lingerie accepts donations once a year (it was in January in 2015) to donate to victims of domestic violence. Please consider donating new or gently used bras to a local women's or homeless shelter. Don't forget that a lot of these centers have a lot of young girls, too, so give any sizes you may have.
Not sure where to find a women's shelter? Please search
here
and call your location center about donations.