Here are a few ways that give away that you're wearing the wrong (cup) size! For example, I'll use some lovely, buxom ladies in show business just because they're more likely to be fitted into incorrect bras for photoshoots by stylists and designers. If I come across more later I will create another blog post.
The Wires Are Sitting on Tissue
Christina Hendricks in a photo from the WildSound (originally Esquire)
Fit is easier to determine with a wired bra, if only because you can easily see where it hits your breast tissue. The wire should NEVER sit on breast tissue (see example above). That's why lingerie experts talk about the
scoop and swoop
method to make sure the wires fully encase your breasts, not float on top. An incorrectly fitting cup size can jab, stab and sometimes force wires up and out of the bra itself.
Bras I Love and Hate
featured an example of a
bra stabbing
(center gore). This can happen due to a manufacturing defect but it can also happen when your breasts are too big for the cup, causing stress on the wire and fabric.
Suggestion
: Go up in cup sizes until the outside wire is not sitting on breast tissue. OR, sometimes, finding a bra with wider wires.
Another sign of a cup that doesn't fit is floating cup syndrome. On Kate Upton above, you can see that the center gore (the piece between the cups) is floating above her body. It almost looks like the cups are floating in the air supporting, you guessed it, nothing! A tight enough band will hold your breast tissue up (to an extent) but won't give enough support to be comfortable.
Suggestion
: Go up in cup sizes until the gore can lie flat.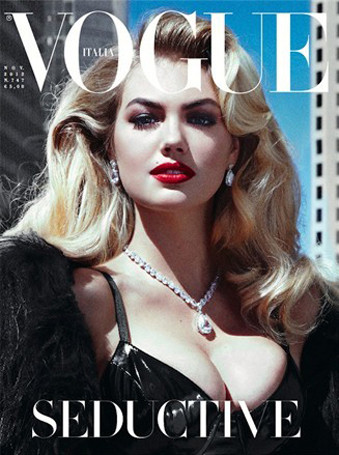 it happens to most of us
), then size your cup for the larger breast. Inserts and padding can be added to the smaller breast to create symmetry. Breast tissue may also start a bit higher on one side and that can make one breast appear bigger. Again, try to size for the largest breast and add inserts.
Suggestions
: Go up a in cup sizes until you have the appropriate number of breasts or change styles.